Due to various regulatory requirements, customer expectations, and tracking needs, we need to print different information on different colors and types of wires and cables in different environments. Therefore, coding and marking equipment must be able to adequately meet complex requirements. For wire and cable manufacturers, the choice of coding system is important to meet these demands flexibly, operate stably in challenging production environments, and integrate into the production process without a hitch.
Factors to consider:
Code Content – The code required for wires and cables is relatively simple, one line of code is common. But the code may become more complex, for example if the content of the message differs for different customers, or if it needs to meet future industry standards.
Available budget – not only the initial purchase price, but also the total acquisition cost and the reliability of the related factors, if you buy at a low price, you need to consider the possibility of paying more for unexpected failures.
Production Environments – Also make sure your printer has the right level of water resistance and features to operate reliably in wet, dusty or greasy environments. Also, consider the coding conditions associated with high temperature extrusions and provide protection for the printer to ensure that the code adheres to the substrate under these conditions.
Testing – Does your coding supplier offer free testing? You need to be sure that the machine will be able to perform as you expect and for a period of time to come.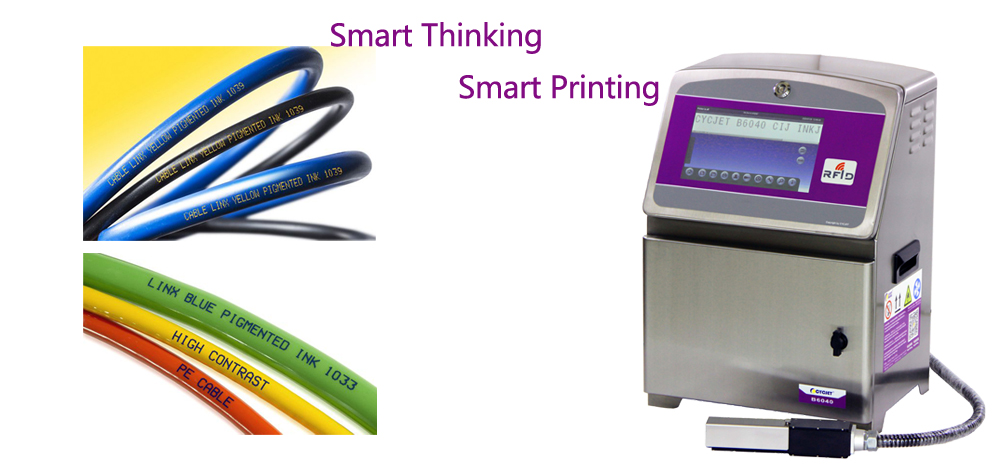 The customer demand survey conducted itself shows that the key driving factors behind the procurement of inkjet codes in the wire and cable manufacturing industry include the rigid demand for traceability through effective codes and the stability of inkjet printers. The less downtime on the production line, the lower the cost of business and the lesser the risk of delivery delays. Fewer coding errors result in lower scrap and its associated business costs, and these and other factors are often interrelated.
Printers with an intelligent operator interface reduce the risk of human error, such as entering wrong information or selecting the wrong code. Reducing such errors further reduces scrapping costs.
Simple and intuitive information selection and large memory for storing different codes reduces such risks by ensuring the correct code is selected the first time, every time.
Printers that can be connected to a central PC or even monitored from a smartphone also help reduce the chance of human error when switching products or messages for different products or customers.
With fast production lines, you need to ensure that the printer runs stably and silently during continuous operation without frequent inspections, cleanings or recalibrations.
Printer failure in a hot dry, dusty or greasy production environment will result in costly downtime. Inkjet printers with IP55 or IP65 rated steel housings or enclosed printheads prevent liquid or particle contamination, prevent clogging, and provide good continuous coding.
Flexibility: The message selection of the coding system is limited, and the extra cost and delay in setting up new messages is beyond the reach of high-speed cable wiring production.
Non-contact printers provide quick and flexible information changes at the push of a button, while also coding on most materials in a variety of code sizes and styles. Quickly changing codes without the printer shutting down reduces downtime, which in turn reduces late deliveries.
Quality Control: Poor quality code such as blurry or smudged display against a cable color background can result in costly rework. The fast-drying ink not only shows clearly on the cable, but also prevents ink transfer when the cable is tangled.
With thin margins and high material cost pressures for wire and cable manufacturers, printers must be simple, stable, and continue to work without time-consuming continuous monitoring or adjustment. This includes minimizing the time it takes to change code between runs. The total acquisition cost over the life of the printer is very important, so choose a printer with low hidden costs, such as a printer with a longer maintenance interval to reduce costs.