Energy consumption comparison: Compared with traditional arc welding, the handheld laser welding machine saves about 80% to 90% of electric energy, and the processing cost can be reduced by about 30%.
Welding effect comparison: laser hand-held welding can complete dissimilar steel and dissimilar metal welding. The speed is fast, the deformation is small, and the heat affected zone is small. The weld seam is beautiful, smooth, no/less porosity, and no pollution. The handheld laser welding machine can be used for small open parts and precision welding.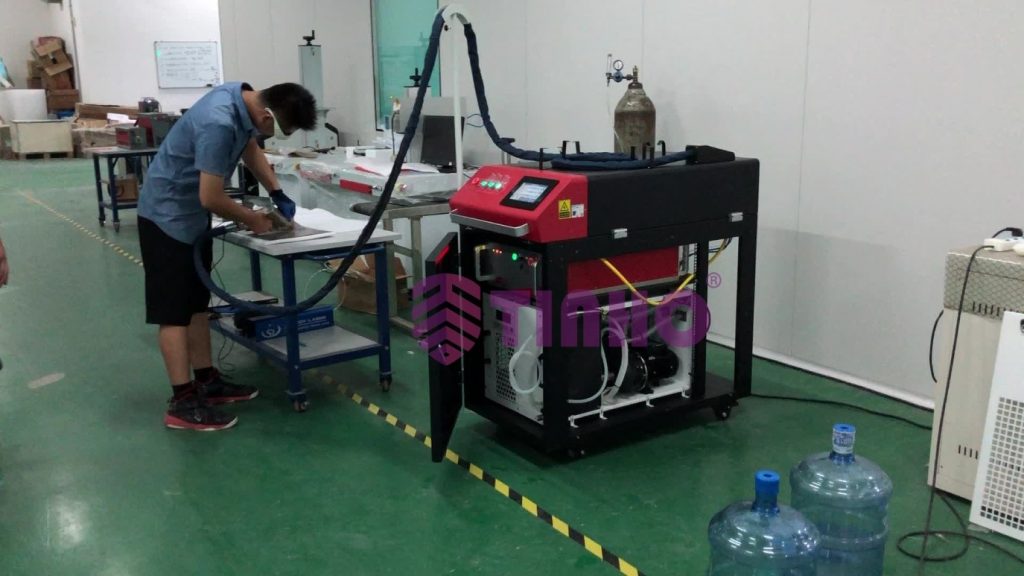 Follow-up process comparison: low heat input during laser hand-held welding, small deformation of the workpiece, beautiful welding surface can be obtained, no or only simple treatment (depending on the requirements of the welding surface effect). The handheld laser welding machine can greatly reduce the labor cost of the huge polishing and leveling process.
Application field of Tinho handheld laser welding machine
Mainly for the fixed position of large and medium-sized sheet metal, cabinets, chassis, aluminum alloy door and window frames, stainless steel wash basins and other large workpieces, such as inner right angles, outer right angles, and flat welds. The heat-affected area during welding is small, the deformation is small, and the welding depth Large, strong welding. Widely used in the kitchen and bathroom industry, home appliance industry, advertising industry, mold industry, stainless steel products industry, stainless steel engineering industry, doors and windows industry, handicraft industry, household goods industry, furniture industry, auto parts industry, etc.

Tinho Intelligent is a professional hand-held laser welding machine manufacturer. It can provide different laser welding heads (swing welding head, automatic upper wire feeding laser welding head, automatic lower wire feeding welding head) and welding copper nozzles according to the welding needs of the workpiece to improve it. The TINHO laser handheld laser welding machine has many new ideas based on humanization and work effectiveness in terms of equipment shape, structure and man-machine interface suitable for operation. The equipment adopts integrated design, compact and beautiful structure, with good beam pattern, stable energy, stable performance; perfect quality and after-sales service, I wish you high-efficiency and high-quality production.
Shanghai Tinho Intelligent Equipment Co., Ltd. is located in Shanghai, As a high-tech enterprise dedicated to R& D, manufacture and sales of inkjet coding & laser equipment, holds more than 20 patents on technology and software to guarantee machine with high quality & high performance, till to now the Tinho full series products included Small character inkjet printer, Laser Marking Machine, Thermal Inkjet Printer, Laser cleaning machine, Laser welding machine already sold well to different country with a good evaluation,if any further assistance or inquiry, welcome to contact us at any time.
Contact Us:
Tinho Intelligent
TEL: +86 137 6190 3268 (Whatsapp)
Email: sales@tinhointelligent.com
Web.: www.tinhointelligent.com