TH128 High Resolution Inkjet Printing System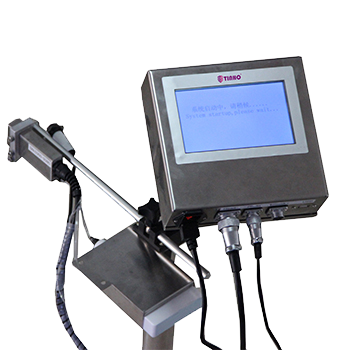 TINHO developed latest laser technology in the world, and designed THU series UV fly laser printer is one latest application on plastic based on well marketing experience, designed the printer with well compact & integration to suit for fast & long time printing on plastic pipe, cable & plastic, meet 24hours continuous working. Smart & simple operation to meet different line speed and materials.
PC edit or 7.0  inch colour touch screen online edit; Colour touch screen;what you see is what you print; easy operation;
Many fonts built in; Bitmap Font, Type face;                                                                                                        
Height of the character and size of the dot can be set as you want;                                                                          
The unique anti-counterfeiting font meets the demand of anti-channel conflict.
Max: 40m/min
Print height up to 18mm
Line number: unlimited
Fonts: more than 10 varieties.
Characters can be rotated
The size of dot and character can be adjusted.
Print delay can be adjusted 1to 9 times fold font   
Date,time, barcode,serial No.,and shiftgroup can be set
Repeat printing automatically
More than 1ooo messages storage
Inks:
Solvent-base ink
Oil-base ink
Quick-drying ink
Ink colour:yellow,white,black,red,purple,green,blue
Power Supply 100-240V±10% 50/60Hz 6W
Environment requirement:
5-40℃Temperature:5-40℃
Humidity:10-90%(non-condensing)
Interface:USB,Encoder,Sensor
Size:450x106x125mm
Weight:1800g
Inkjet Printers: An Inexpensive Solution to Printing!
An inkjet printer recreates texts and images onto paper, plastic, or any other substrate with the help of inkjet technology. Inkjet printers have gained wide popularity over the last few years because of their high-quality deliverables at affordable prices.
Although the market is filled with printers designed for specialized uses, inkjet printers spot the first position in the list of commonly-used printers. Inkjet printing technology is efficient enough to meet almost every printing need.
Unlike their noisy printing counterparts, inkjet printers create high-quality text, images, and graphics silently. A modern-age inkjet printer features two main types of inkjet printing technologies – Continuous inkjet, and Drop-on-demand technology.
Here at Tinho Intelligent, you will find printers providing high resolution inkjet printing.  Our inkjet printers can produce high-quality digital images on most types of paper. They come in compact sizes and require minimal space to be placed.
What to Expect From Tinho's Inkjet Printers?
Compared to most other printers available, Tinho's printers offer better resolution when it comes to printing images or text. They operate silently and literally require no warm-up time to start printing. You can simply connect our inkjet printers to a cable or wireless network and start printing premium-quality images.
Here are some perks of using Tinho's inkjet printers:
● Premium quality print
● No noise impact
● Compact in size
● Affordable Price
However, if you want to get high resolution inkjet printing every time you print an image, here's what you should keep in mind.
● Ink Quality: Although high-quality inkjet printing depends upon several factors, permanence tops the list. Permanence refers to the ink's stability in the printed image on exposure to varied environmental conditions for the entire printing duration. It is directly dependent on what type of ink is used and how it reacts with the substrate. Using good quality ink can help you achieve perfect printing permanence.
● Substrate Quality: The type of substrate used in an inkjet printer heavily impacts the image quality. Do not expect your printer to produce high-resolution images if you use paper that absorbs ink non-uniformly, takes a longer time to dry up ink droplets, or causes bleeding & smears. Always ensure using coated papers that are specifically designed for inkjet printing. It will help you achieve impressive quality images.
Why Choose Tinho Intelligent?
Tinho Intelligent Equipment Co., Ltd. is a renowned tech enterprise committed to the development, manufacture and sales of technologically advanced printing equipment. We offer an extensive range of products that are exported to more than 60 countries across the globe. Being an industry-leading enterprise in the research and application of laser technology, Tinho provides cutting-edge printing solutions.
Currently, our product range includes high-speed fly laser printers, automatic laser marking machines, laser welding machines, and laser cutting engraving machines. We have a team of knowledgeable professionals who provide exceptional pre-sale and after-sale technical support. We offer premium quality printers at the best prices in the market!
So, wait no longer; check out our new-age advanced printers that feature high resolution inkjet printing configurations. Get in touch for more info!