Green Laser Markers and Engravers – Ideal for High-precision and Micro Markings 
Green laser engravers and markers use the 532 NM wavelength to produce high-precision and soft marking on a variety of materials including sensitive materials that react poorly to other high-power wavelengths. Green laser markers emit a bright green-colored light beam at a wavelength that is almost half of other standard wavelength laser marking equipment. Besides these, there are several other benefits of green laser engravers and markers that make them an ideal option for ultra-fine and soft marking purposes. Some of these benefits include
1· Greater efficiency  
2· High-precision, ultra-smooth, and shallow marking  
3· Permanent and tamper-resistant  
4· Better readability  
5· Reliable and bio-compatible  
6· Ensures product traceability, identification, and labeling  
7· Less wastage 
8· Reduced downtime  
9· Low operational costs

How Do Green Laser Markers and Engravers Work?
Since green laser markers and engravers use thermal energy and have a high absorption rate, these are a great solution for marking on heat-sensitive materials. Green engravers and markers emit a focused low-power light that is directed towards the laser marking area of the material. 
When the beam interacts with the working area, it alters the properties and appearance of the material. Because of their short wavelength, green laser engravers and markers can create ultra-fine, sharp, and shallow markings and engravings. This reduces damage and unnecessary wastage of materials which makes these machines an ideal option for miniaturized marking and other high-precision applications.
TINHO Green Laser Engravers and Markers – Great Solutions for Pharmaceutical Industry
TINHO is a brand owned by Tinho Intelligent Equipment Co., Ltd. Over the years, Tinho has emerged as a leading manufacturer and distributor of Green Laser Engravers and Markers, and other different types of laser printing solutions, portable marking solutions. 
In the past couple of years, drug safety issues have become a major concern for the pharmaceutical industry as well as consumers. Previously, drug manufacturers used inkjet printers for marking information of the medicines or capsules. Although a very small amount of ink is used, the direct contact of the ink with the capsules is detrimental to the health of consumers. Moreover, ink markings on drugs used to fade over time which incurred risks of the drug safety. That's when the idea of laser marking and engravings prompted in. Presently, the large-scale usage of laser engravers and markers during medicine production has helped many drug manufacturers to protect themselves against counterfeiting and improve traceability of their products. Due to their contactless, eco-friendly, and tamper-resistant features, the green laser markers and engravers can not only cater to the requirements of numerous packaging materials, but also produce markings that are long-lasting. Additionally, these machines prevent ink-contamination of the drug capsules which is crucial for consumers' health.
 Drug manufacturing is subject to strict regulations and requirements that must be abided during the research and development, production, distribution, and use by consumers. Drug manufacturers must ensure that they have their drugs marked with the production date, production batch number, main components, scope of application, shelf life and other information which are considered as credible sources of anti-counterfeiting and traceability.
Tinho Green Laser Markers and Engravers are exclusively designed for marking needs of the pharmaceutical industry. These high-end machines can efficiently produce a variety of text symbols, patterns, and characters of varied sizes ranging from millimeters to micrometers. This ensures the safe traceability of drugs and protection against counterfeiting. Moreover, as these machines use radiation methods, they do not require any extra consumables which cuts down your maintenance costs. As many drug manufacturers are using green laser marking systems, the drugs produced are non-toxic and come with no side effects.     
Get Personalized Laser Application Solutions to Attain the Best-quality Marking Effect
To help you achieve the best marking results for your drugs, we have designed a professional and customized laser application solution for the pharmaceutical industry to cater to the marking needs of different medicines including capsules, oral liquids, pharmaceutical packaging, and many more. Our high-end machines can efficiently create markings on different surfaces and meet different coding requirements.
Have a look at our product selection solutions that are available for your reference.
1.      TINHO-THG series –   TINHO-THG series ultraviolet laser coding equipment can be used to pack a variety of materials for pharmaceutical packaging no matter if the outer packaging of the medical products is a carton or a plastic box. This type of machines is ideal for laser coding on lighter pigment boxes and clear plastic boxes. 
2.      TINHO-THC series –  TINHO-THC series CO2 laser coding equipment is recommended for dark paper packaging boxes as these machines can cater to the requirements of fast coding. 
Key Specialties of Our Green Laser Markers and Engravers 
1. High-precision micro markings
2. Advanced functional efficiency  
3. Maximum productivity 
4.Less Material Wastage 
5. Reduced Downtime 
5. Cost-effective 
6. Prevents ink contamination 
7. Protection against low-quality and counterfeiting issues 
9. 100% compliance with industry standards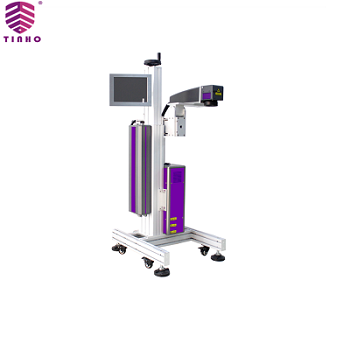 Get In Touch
Tinho Intelligent professional for Green Laser Marker Engraver professional with Soluitons, Laser Coding System & Automatic Inkjet Coding System, depend on the well-experience, R & D ability, Tinho available to supply all superior intelligent laser marking & Inkjet coding solution to each customer, welcome to inuiry us at any time !