TINHO Green Laser Marker & Engraver Are Widely Used In The Pharmaceutical Industry -
In recent years, drug safety issues have emerged in an endless stream, constantly challenging consumers' imaginations. The laser inkjet printer in the pharmaceutical industry has special significance for anti-counterfeiting and safety traceability of drugs.
Drugs in the process of research and development, production, circulation, and use will be subject to strict requirements and norms before they can play a normal role. The production date, production batch number, main components, scope of application, shelf life and other information are important sources of anti-counterfeiting and traceability. The Green Laser Marker or printers can produce a variety of text symbols and patterns in the pharmaceutical industry. Characters can range in size from millimeters to micrometers. This has special significance for anti-counterfeiting and safe traceability of drugs.

The pharmaceutical industry uses Green Laser Engraver or laser printers to assign codes, which is a non-contact, non-polluting marking method, which not only can meet the use of multiple packaging materials, but also all the information marked on the pharmaceutical packaging materials can not be erased and tampering. Anti-counterfeiting ensures that all circulating drug information is traceable. As long as there is a problem in any link, the relevant code can be used to query the root cause of the problem. For example, capsule marking, the previous marking method of the medicine capsule we eat is ink printing. The ink printing directly touches the ink on the capsule. Although the amount of these inks is small, it has direct damage to the human body. However, the use of the pharmaceutical industry laser printer or the Green Laser Engraver can engrave text pictures on the drug capsules, effectively avoiding ink contamination. At the same time, compared with the traditional ink printing machine, TINHO green laser marking does not require any consumables, and the printed medicine is non-toxic and has no side effects.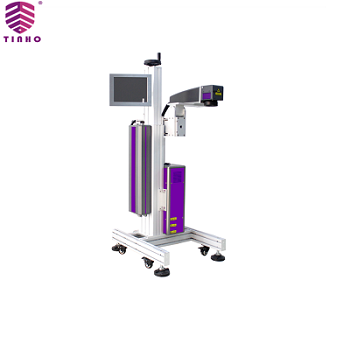 Customized Daily Laser Application Solutions In order to achieve the best marking effect, Henan Tinho Intelligent Equipment Co., Ltd. designs a professional laser application solution for the pharmaceutical industry to meet different medicines (including capsules, oral liquids, pharmaceutical packaging, etc.). Different surface processes (including production date, barcode, QR code, monitor code, etc.) coding requirements. Henan Tinho Intelligent Equipment Co., Ltd. provides you with the following product selection solutions for reference only. 1. Packing a variety of materials for pharmaceutical packaging, whether the outer packaging is a carton or a plastic box, for medical products, it is best to use TINHO-THG series ultraviolet laser coding equipment for laser coding, especially for thinner materials and colors. Lighter pigment box and clear plastic box. 2. For dark paper packaging boxes, TINHO-THC series CO2 laser coding equipment can meet the requirements of fast coding. TINHO is the brand of Tinho Intelligent Equipment Co., Ltd. As a manufacturer, TINHO has many years of experience in China and is a wholesaler and retailer of different types of laser printing solutions, portable marking solutions.
Get In Touch
Tinho Intelligent professional for Green Laser Marker Engraver professional with Soluitons, Laser Coding System & Automatic Inkjet Coding System, depend on the well-experience, R & D ability, Tinho available to supply all superior intelligent laser marking & Inkjet coding solution to each customer, welcome to inuiry us at any time !